Pre-Conceive Fertility Supplement
Out of Stock.
UPC:

6.8057E+11
A unique, unisex formula, that features specific nutrients selected via independent research championing their effects on fertility markers, for both men and women. Pre-Conceives ground breaking formula has also shown great benefit for the developing embryo and the mother post pregnancy.
features
A multi-functional nutritional supplement that ensures the delivery of key nutrients to the important reproductive areas.
For men, it works to benefit sperm count, concentration levels, motility, blood flow, hormonal patterns, DNA health and the regulation of testosterone.
For women, Pre-Conceive works to regulate hormones improve egg quality; improve uterine and cervical health as well as fallopian and thyroid health. It may also benefit women by helping to tackle ovulation disorders.
A nutritional supplement for improving fertility and conception levels in both men and women.
Specially chosen and well researched nutrients aid and improve energy production for the cells including the egg and sperm
Features a full spectrum of protective antioxidants and building blocks for the body to create main antioxidant enzymes.
Nutrients in Pre-Conceive improve cell development, replication and protect vital DNA.
A truly Irish supplement with full traceability on all ingredients Pre-Conceive is manufactured in a specialist facility here in Ireland.
Pre-Conceive is fully endorsed and supported and backed by ReproMed Ireland, Ireland's leading fertility clinic.
How to use:
Recommended usage – dissolve sachet into at least 100ml of water, making sure all of the powder is consumed. (There may be some powder in the bottom of the glass because some nutrients never dissolve well i.e. Iron).
You can mix the sachet with juices but this is not advised as it may interfere with the nutrient absorption.
We do not recommend adding powder to food as a lot of the powder will be left behind in the bowl or plate.
The Omega 3 capsules can be taken altogether and we recommend taking these in the evening.
We recommend that pre-Conceive is stored at room temperature and not exposed to extremes of temperature at any time. The fish oil capsules should be stored below 25C or kept in the fridge. Neither the sachets nor the capsules should be left in direct sunlight
Ingredients:
There are over 31 active nutrients in each satchet. A typical daily serving provides 5000mg of Arginine, 3000mg of Omega 3, 400mg of Vitamin E, Zinc and Selenium, 1200mg of NAC and 400 IU of folic acid.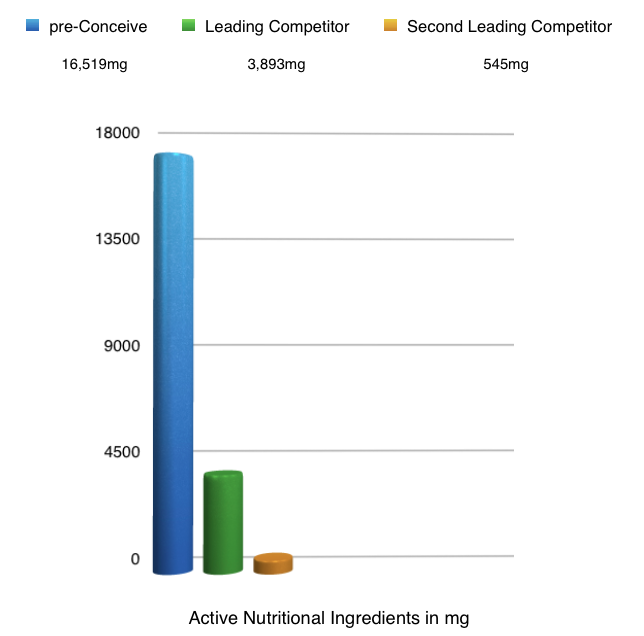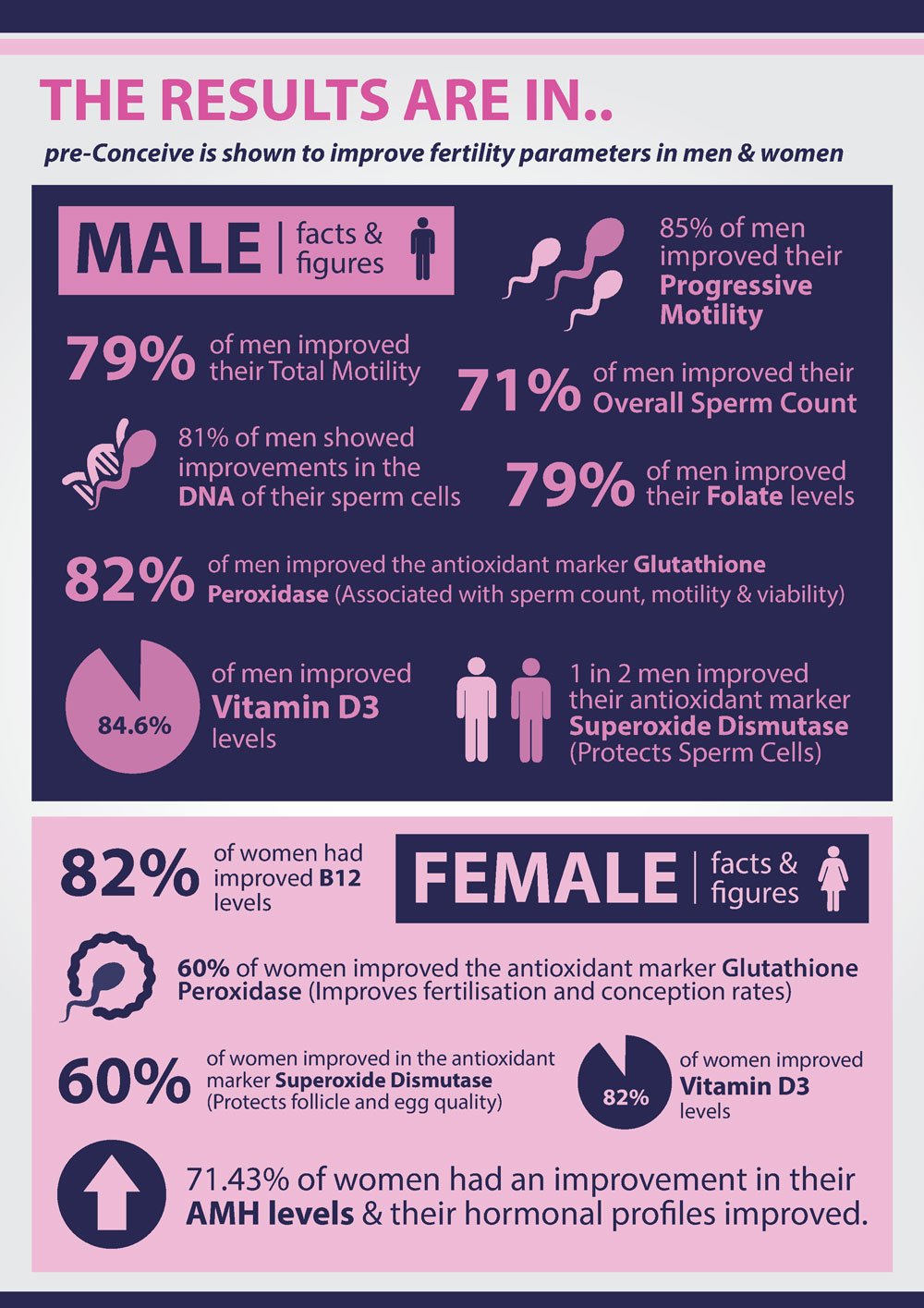 You may be interested in:
Blog: The 8 Biggest Lessons We Learned About Our Health In 2015>
Blog: 5 Signs You're Fertile Now!>
Videos
<!–– there will be a class "toggle-content" ––>
Write a Review
Been trying for over a year at 38 and was on this less than a month and got pregnant

I was extremely cynical but was about to give up hope. I am 38 and have 2 kids already so was happy with my lot. I have been trying for over a year. I noticed that since I turn 35 my cervical mucous was no where near what it was in my 20s and early 30s.

I was on this from a few days after my period and thought it was worth a shot. I noticed significant increase in mucous during ovulation and 2 weeks later a positive pregnancy test.
I am over the moon.

I never write reviews but I am convinced this made the difference.



I bought this to help me to get pregnant. I heard great reviews for this pre-conceive supplement. I dont know what it is but i feel better and been on this for approximately 3 months and finally i got pregnant! Its totally amazing!

I was skeptical about buying this supplement and I'm so glad that I did. I could tell it was working within days of taking it. Prior to taking these my cervical mucus was almost non-existent however, within 3 days of taking this supplement i saw a huge difference in the quantity of cervical mucus. I've been trying to conceive for 3+ years and I went through IVF treatment. So far so good!

I am 18 weeks pregnant after taking preconceive for a few months. It doesn't taste great but it was the last chance for us before IVF so I just thought of what I wanted when drinking it. I do suffer from cold sores but funnily enough I didn't have any while on it. I did find it upset my stomach a bit and found a half sachet enough for me personally. It is expensive but so far it's been the only thing that we did different and had success. If this works out I would use it again. Regarding the cost while its pricey, if you bought all the components of it separately you'd end up paying the same. My rationale was its cheaper than IVF.

Delivery Cost €4.99 (Per Order) - Ireland
Discreet Packaging
SMS and Email Alerts
Order before 2pm for same day dispatch
98% of all orders are delivered next day
Your order will leave our warehouse in Bray, Co Wicklow and be delivered the next working day. You will receive SMS & email tracking updates from An Post and someone will need to sign for the parcel on delivery.