Safety Gate 101: Your Guide to Choosing the Perfect Gate!
Is your little one or pet always on the move, finding new nooks and crannies to hide and generally getting up to mischief? It may be time to consider a stair gate or safety gate for your home. This will ensure that any areas you want closed off in your home can be, along with the top and bottom of your staircase, some of the most hazardous locations.
New to the realm of stair gates and safety gates and want a complete 101? Read on for our complete guide!
Why Do I Need a Stair Gate?
If your little one likes to explore the parameters of your home, they could venture into areas that should be out of bounds for tiny tots and rambunctious pets. By installing a safety gate, you can rest knowing that you have cornered off any areas that you don't want your baby, toddler or pooch to have access to. It's also practical for during the night. If your baby wakes and makes their way to the top of the stairs, they won't have access to the staircase, which can pose a serious threat to infants and toddlers.
Where Do I Need Safety Gates in My Home?
You can install a safety gate in any place you want to prevent access to. A general guide is to place one at the top and one at the bottom of your staircase if you live in a home with stairs. A dog gate for stairs is commonplace in many homes with pets as it'll prevent your curious canine from venturing upstairs. You may also like to install a gate in doorways to specific rooms, such as the kitchen, which can pose many threats to infants and toddlers. It's also commonplace to install gates or room dividers in front of hazardous spots such as fireplaces or televisions.
What is the Right Age to Get a Stair Gate?
So, there's no one "right" or magic age to purchase or install a stair gate, and before your baby is born, you're likely busy preparing all of the necessities for your little one's arrival. Many will suggest installing when there are signs that your little one is about to take their first steps. We recommend always erring on the side of caution, however, and consider installing a safety gate once your baby begins to crawl, so anywhere between the six-month mark to a year is ideal.
What Type of Safety Gate Do I Need?
Now you've reached the tricky part, and we're here to help! With a multitude of safety gates on the market, it can be daunting to know how to choose the ideal fitting for your home. Let's take a look at what's on offer…
Screw Fit Gates
A Screw fit stair gate is secured in place by attaching it to the wall with screws. If you're looking for something extra secure and robust, a screw fit gate may be the best option for you. These types of gates are most ideal for using at the top of the staircase.
Pressure Fit Gates
Pressure fit gates won't require drilling any holes for installation. This type of gate is ideal for those who want an easy installation and a less permanent option, as when you eventually remove your gate, walls will be left undamaged. It's important to be aware, however, that a pressure gate isn't as secure as a screw fit gate, so it's best to avoid using one at the top of your staircase. A pressure fit gate is better suited between a door frame, for example.
Wooden Safety Gates
Wooden safety gates are ideal if you want to offer a warm finish that complements your existing interior décor, and are available in a variety of fixtures depending on your preference.
Retracting safety gates
A retractable baby gate can fit both inside and outside of door frames and is locked simply by pulling out and pressing down the handle side button. On release, the baby gate folds back onto itself, disappearing from view to blend in with your home aesthetics. These types of gates may be preferred as they're more flexible than a fixed gate. It is best, however, to avoid using a retractable gate at the top of your staircase due to not being as sturdy as a screw fit gate.
Gates for Awkward Angles
If a traditional safety gate won't meet the space requirements of your home, a specially designed gate for awkward angles may be the best option.
Extra Tall Stair Gates
Extra tall stair gates offer extra protection against hazards, as they also prevent your little one from climbing over the gate and reaching off-limits areas. They're also ideal for pets, especially larger dog breeds!
Room Dividers & Configuration Gates
Room dividers and configuration gates are most ideal for sectioning off an entire area within your home, like fireplaces, stoves and televisions.
Dog & Pet Gates
Whilst our baby gets are also suitable for your perfect pooch, you may also like to check out our dedicated range of Dog & Pet Gates. Choose from a selection of various lengths and widths to best suit your specific pet and breed, from the tiniest of Terriers to rambunctious Rottweilers!
What Size Stair Gates Can I Get?
We stock a variety of sizes for our safety gates. A general guide is a width of 70cm-80cm as a universal standard that will fit most spaces. We also stock a variety of Gate Extensions to work with your corresponding gate to make them wider if needed.
If you're unsure of the exact safety gate you should purchase for your home, our checklist may help!
1. Consider WHERE your gate will be positioned. This will determine the type of fitting you need. Remember, screw fit gates tend to pair well with the top of the stairs due to being the most secure fit. Likewise, with pressure fit gates and doorways.
2. Measure, measure, measure! Before you purchase, make sure you know the exact dimensions of the space you'll be installing your gate in. This will help you determine whether you'll need a standard size gate or one of our Gates For Awkward Spaces.
3. Consider how long you'll be staying in your current space. If you're renting and conscious of leaving marks on walls, or prefer a gate that can easily be taken with you on your next adventure, a pressure fit gate is a more portable contender.
4. Check the opening mechanism of the gate you want to purchase and whether you require a one way, two way or sliding mechanism. It's important to make sure there's enough room for the gate to swing open fully for adults to get in and out. One-way openings can be better for stairs, such as a gate that opens away from the staircase, so that in the event that your gate isn't closed properly, it won't open accidentally when pressure is applied.
5. Consider a no-trip bar. A no-trip feature simply means that there won't be a bar at the bottom of your gate which can cause those passing through to trip.
Our Top Gates
Pressure Fit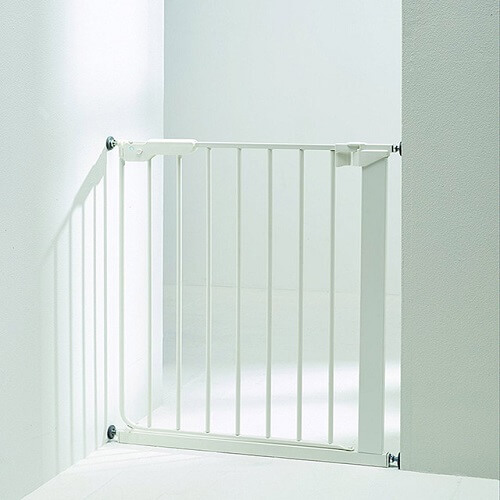 If you're looking for a pressure fit gate, we recommend the BabyDan Danamic Narrow Pressure Fit Safety Gate White (63-69.5cm) for smaller spaces where wider gates won't fit. For wider spaces, we recommend the Babydan Premier True Pressure Fit Safety Gate - White (73.5 - 79.6cm). It's tested and approved in accordance with safety standard EN1930:2011 and both gates can be extended further with the BabyDan Standard Extend-A-Gate Kit - White (2 x 7 cm), Babydan Premier Gate Extension 32cm and BabyDan Premier Gate Extension 64.5cm.
Screw Fit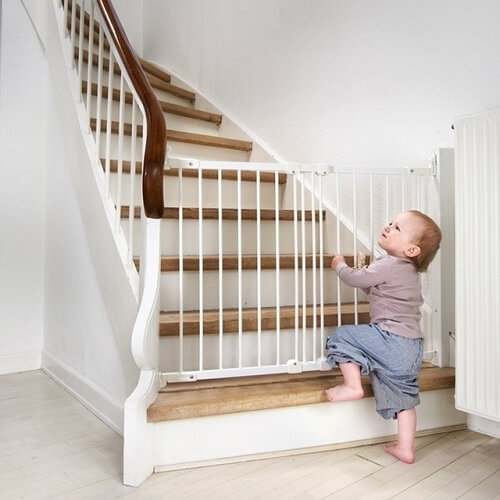 For a sturdy, more permanent gate that'll screw into your wall, BabyDan Flexi Fit Metal Stair Gate - White (67-105.5 cm) is an ideal contender, and is also available as the BabyDan Flexi Fit Metal Stair Gate - Black (67-105.5 cm). There's no trip bar, and an ultra-flexible installation system fits almost all openings. This gate opens inboth directions and the wall fittings can be turned to fit either inside or outside the door frame. It also features a quick release mechanism, which makes it easy to mount and detach if needed. And if you want a cosy aesthetic, we love the BabyDan Flexi Fit Wooden Stair Gate (69 - 106.5 cm)
Retractable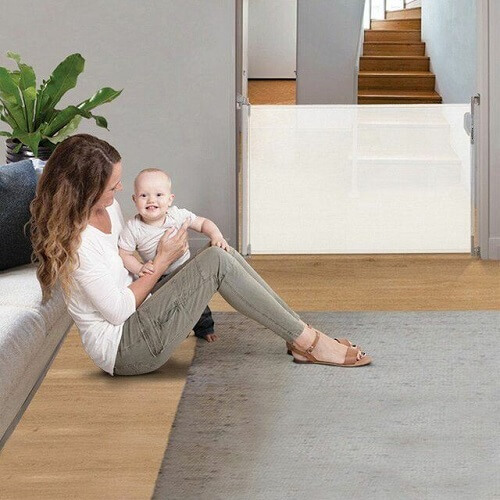 Available in black, white and grey, the Dreambaby Retractable Gate Fits Gaps Up To 140cms – Grey provides a barrier for a variety of widths and retracts back into itself when not in use. It has a clip- on/clip-off release, so you can easily move the gate from one location to another. It can be used used both indoors and outdoors, however should be brought inside during adverse weather conditions. It has a strong, robust structure, and the featured no-trip bar makes it an ideal contender for stairs. It can fit openings up to 140cm.
Extra Tall Stair Gates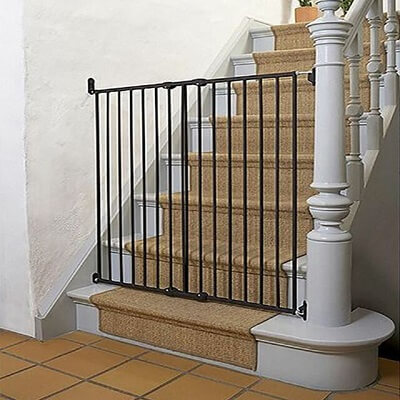 If you need an extra-tall gate within your home, or simply wish to prevent your little one from climbing over the stair gate, the Babydan Quick Release Extra Tall Safety Gate Black and Babydan Quick Release Extra Tall Safety Gate White is a sturdy, metal screw-fit, extra tall extending gate. The gate features quick release wall fittings, and the absence of a trip bar offers extra peace of mind to parents.
Fire & Stove Safety Gates and Room Dividers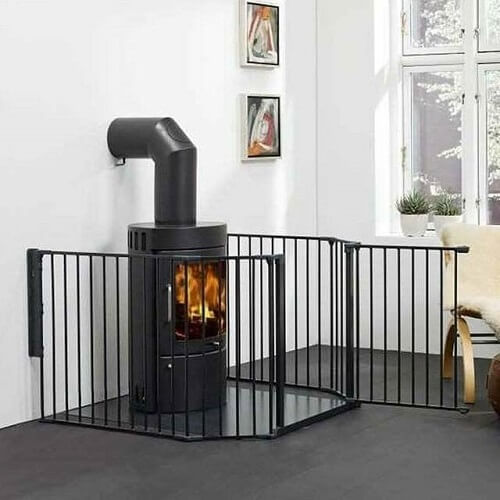 If you need to prevent your child from accessing the area near a fire or stove, the best-selling BabyDan Configure Flex XL Hearth Gate Black 90-278cm is a must-have. It can be used to section off a multitude of hazardous areas in your home, such as the fire, stoves, TV, balcony, open kitchen, Christmas tree, or even certain rooms that you wish to limit access to. The heat-resistant BabyDan 5 Panel Hearth Gate is easy to mount, and you can extend your gate with extra extensions as well as position all sections as you wish. The BabyDan Room Divider XXL Black 90-350cm + Wall Fittings is also ideal for cornering off any larger areas within the home, and your child can have their own sectioned area. It's ideal for larger or unorthodox spaces, and can be configured as a playpen. It has one handed operation and an extra-wide doorway so it's easy for parents to get in and out, and it is made up of four 72cm panels and one 72cm gate panel. The XXL room divider can fit openings of 90cm to 350cm and can be extended with additional panels and gate panels, ranging from the BabyDan 20 cm Extension Section – Black all the way to the BabyDan Configure /Flex Hearth "GATE DOOR SECTION" Black 72cm.
Stair Gate Extensions
Your gate may be extendable, in which case you may like to browse our Stair Gate Extensions range to pick up an extension that corresponds to your chosen safety gate.
And there you have it! Now that you're well on your way to picking your perfect gate, enjoy Next Working Day Delivery across Ireland from our warehouse in Co. Wicklow when you place your InHealth.ie order before 2pm!