Introducing ​Milton: The Gold Standard in Sterilisation and Hygiene!
In our fast-paced world, maintaining cleanliness and ensuring the safety of our surroundings has become more critical than ever. When it comes to sterilisation and hygiene products, one name stands out as a trusted brand with a rich heritage of over 70 years: Milton. As proud Irish stockists of Milton products here at InHealth.ie, we're thrilled to bring you a comprehensive range of their offerings, designed to keep your environment clean and germ-free. Not only does Milton have a global presence in over 35 countries, but their commitment to plant-based formulas and recyclable packaging also aligns perfectly with our sustainability goals. Here are our top Milton recommendations…
Milton Antibacterial Spray (500ml)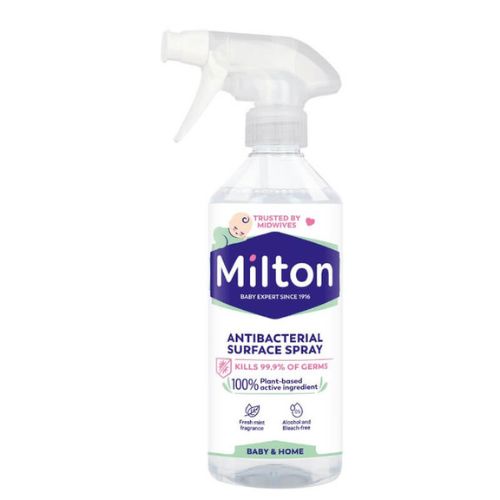 The Milton Antibacterial Spray is a versatile and effective solution for maintaining cleanliness in your home, office, or on-the-go. This powerful spray is specially formulated to eliminate 99.9% of germs, bacteria, and viruses, providing you with peace of mind. Its convenient size and easy-to-use design make it a must-have product for maintaining a hygienic environment wherever you are.
Milton 1000ml Sterilising Fluid: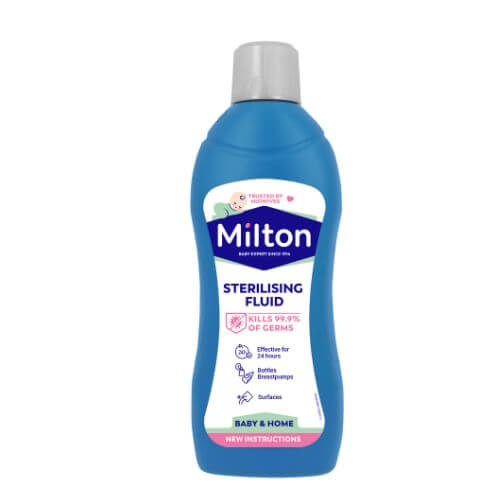 The Milton Sterilising Fluid has been trusted by parents and healthcare professionals for decades. This time-tested formula is specifically designed to kill bacteria, fungi, and viruses, making it ideal for sterilizing baby bottles, breast pump parts, and other essential baby items. Its large 1000ml capacity ensures you have an ample supply for thorough and efficient sterilization.
Milton SterilisingTablets (28-pack)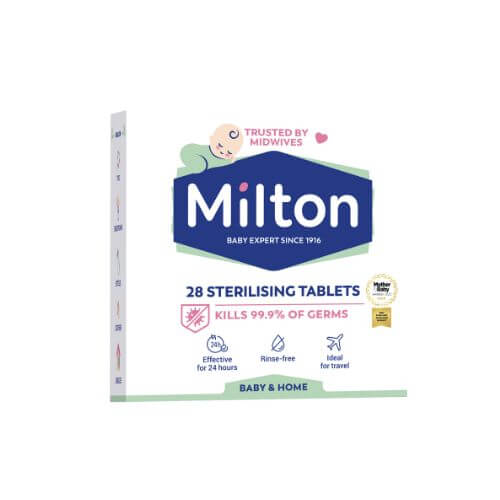 Ideal for travel and parents on the move, the Milton Sterilising Tablets offer a convenient and portable sterilizing solution. These compact tablets dissolve quickly in water, creating a powerful sterilizing solution for baby bottles, teats, dummies and more. With the Milton Tablets, you can ensure your baby's belongings are always free from harmful germs, no matter where you are!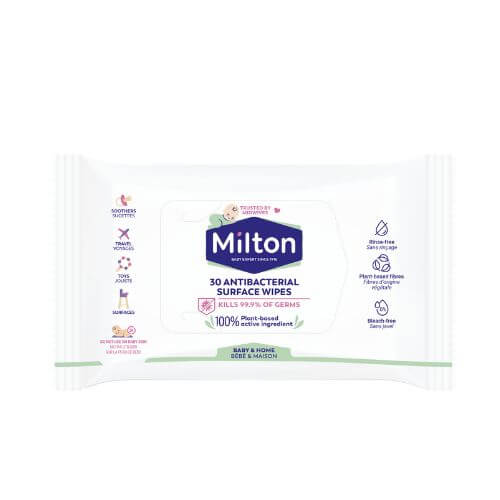 Designed for quick and effective cleaning, the Milton Wipes are an essential tool for maintaining hygiene on surfaces, utensils, and toys. These wipes are gentle yet powerful, effectively eliminating bacteria and viruses. With their compact packaging, you can easily carry them in your bag, making them perfect for outings and travel.
Milton Baby Bottle Cleaner (500ml)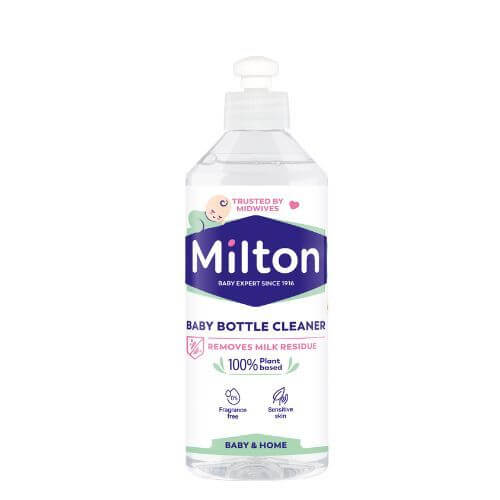 The Milton Baby Bottle Cleaner is a gentle yet effective formula designed to clean baby bottles, teats, and accessories. This plant-based cleaner is free from harsh chemicals, making it safe for your little one. Its thorough cleaning action ensures that your baby's feeding essentials remain hygienic, promoting their health and well-being.
Shop the Milton range here at InHealth.ie, and get Next Working Day Delivery in Ireland when you place your order before 2pm!