​Lulla Doll : Your Baby's Sleep Companion, Backed by Science!
Introducing the NEW Lulla Doll!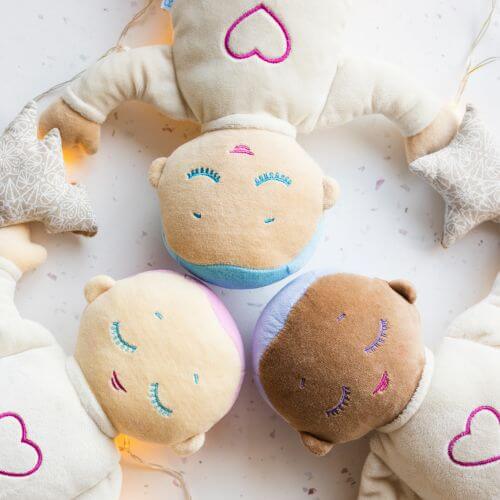 Lulla Doll is a multi-award winning baby sleep aid that's suitable from birth and beyond. Lulla Doll offers the warmth of closeness between caregiver and baby with its soft texture and the soothing sounds of real-life breathing and heartbeat.
This unique doll is so much more than just a cuddly companion; it's the result of extensive scientific research that reveals the soothing impact of natural heartbeat and breathing sounds on babies and children.
Inspired by Mother Nature, the Lulla doll is a gentle and soothing solution that fits seamlessly into your baby's sleep routine and is perfect for comfort on the go. For infants under one-year-old, place the Lulla doll just outside the sleep area, and let its natural sounds envelop your baby in the comforting feeling of co-sleeping, whilst older children often develop a strong bond with the Lulla doll to help reduce anxiety and offer comfort.
Why Choose a Lulla Doll?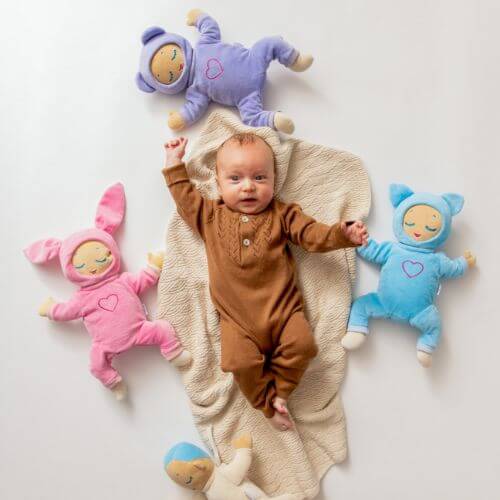 Studies have uncovered the power of replicating the comforting rhythms of real-life breathing and heartbeat. When babies are exposed to these familiar sounds, they sync up with them, leading to more stable heartbeats and smoother breathing patterns. It's like a lullaby for the soul that helps babies sleep better and longer! The Lulla Doll is suitable for older children, too.
Benefits That Feel Like a Hug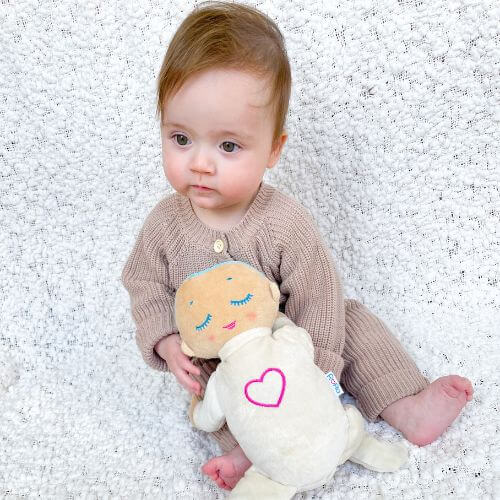 In the earlier months of your infant's life, closeness is important. Pediatric guidelines recommend keeping your baby in the same room as you for the first year of their life. The Lulla doll complements this recommendation, offering an extra layer of security and comfort. It's not a replacement for the special bond between parent and child; it's a companion to enhance bedtime.
When your little one is close to their Lulla Doll, it's like they're cuddling with a slumbering friend. This doll is designed with love to mimic the tender embrace of a parent. It features a single, comforting sound: the natural breathing and heartbeat of a real mother. Plus, the benefits of the Lulla doll are just a sound away, even if the doll isn't within your child's grasp. It follows the guidelines of the American Academy of Pediatrics (AAP) for children under 12 months.
Will Lulla Doll Make my Child Sleep Through the Night?
While the Lulla doll encourages healthy sleep patterns and mimics the concept of co-sleeping, it doesn't promise an uninterrupted night of sleep. It's important to keep in mind that newborns generally don't sleep through the night, managing only a few hours at one time.
How Should We Begin Using a Lulla Doll?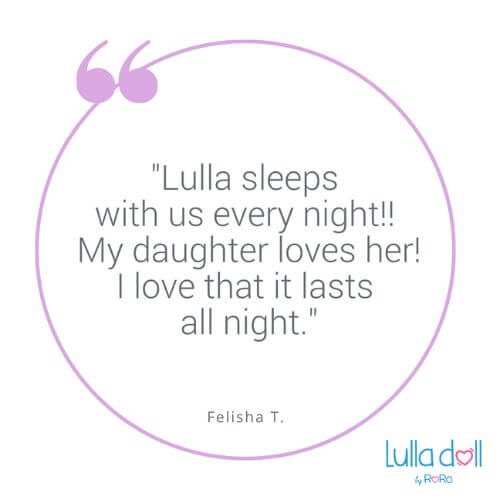 Here are some tips for using a Lulla Doll:
Keep the doll close to your skin, so it absorbs your scent, giving your child an extra layer of safety and comfort.
Introduce the doll when your child is calm and content.
Let your child explore the doll, listen to the soothing sounds, and feel the softness of the fabric.
Use a happy, warm voice when introducing the doll.
Integrate the Lulla doll into your baby's sleep routine with the sound turned on.
For babies under one year old, allow your baby to hold the doll and keep it close while they are awake, during falling asleep, and always under your watchful eye. When the child is asleep, move the doll outside their sleeping area with the sound still on, securing it to the crib's exterior or placing it nearby. Your child will continue to experience the soothing natural sounds, even when the doll is just out of reach.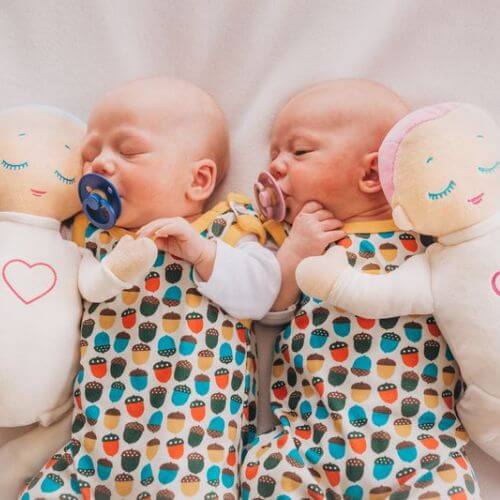 Order your Lulla Doll from InHealth.ie, and enjoy Next Working Day Delivery in Ireland when you place your order before 2pm!