Braun ThermoScan® 7 Thermometer with Age Precision®
UPC:

4022167652294
Winner - Best Baby Thermometer- LPD Awards 2017
Braun ThermoScan® 7 is the flagship product of Braun thermometers.
This ear thermometer features the new patented Age Precision® Technology – an age-adjustable fever guidance which completely takes the guesswork out of interpreting child's temperature.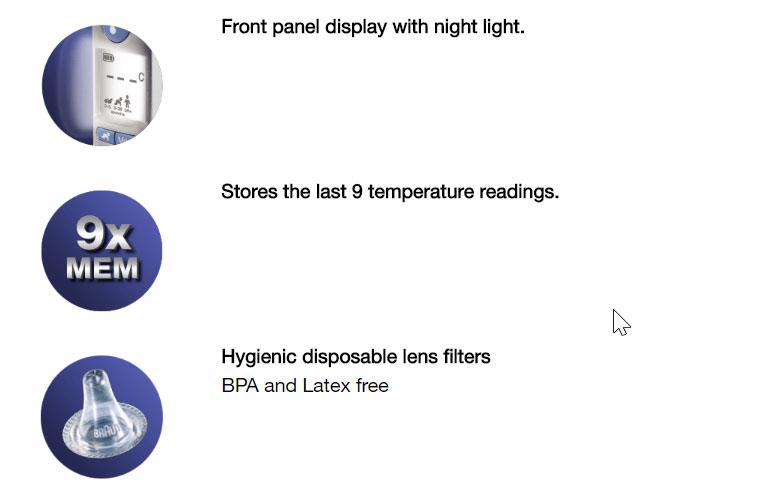 Clinical research shows that the definition of fever changes with a child's age*. What is a normal temperature in a four year old, can be a fever in a newborn. Age is the determining factor. To help you interpret your child's temperature more confidently, we have developed the new Braun ThermoScan® 7 (IRT6520) with patented Age Precision® technology. Simply select your child's age, take their temperature and the colour coded display will help you understand the temperature reading, based on the age of the child, and act accordingly.
By selecting Braun ThermoScan® 7, you are choosing the no.1 thermometer brand among doctors*. Thanks to its patented pre-warmed tip, Braun ThermoScan® ear thermometers are already regarded as a benchmark for accuracy, and are widely used and endorsed by doctors around Europe. The tip on other thermometers can cool the area where the reading is taken, which can lead to inaccurate readings. The tip on the ThermoScan® is warmed before use, to ensure professional accuracy.
Plus, the ExacTemp® guidance system confirms the correct position and accurate reading with a light and a beep. Now with new Age Precision® technology Braun ThermoScan® gives you even more reassurance when it comes to interpreting your child's temperature.
Videos
<!–– there will be a class "toggle-content" ––>
Write a Review
I love that it is easy to use. i have no problems sing this with kids. I love it..

Very good thermometer. I had a different one originally which was not very accurate so I needed a new one. This one gets the best reviews & ratings & now I know why. It's worth spending a bit extra to get a decent one.

Really great thermometer. Perfect for all the family with the age setting. Probe is tiny enough for my newborns ear also. Highly recommended:)

Cannot tell you enough how great this is. Used a normal under arm one for a while but it was always such a hassle. This is easy!!!

This is a brilliant monitor and is very accurate

I bought this after my Braun underarm monitor stopped working ( after 2.5 years). This is a brilliant monitor and is very accurate. Particularly handy for when little one is sleeping. My doctor has the older model in this thermometer.

We used to have thermoscan 5 but my daughter dropped it several times and now I simply can't trust it. Anyway this one has all I want the other one didn't have a light for reading the thermometer so it was really hard during night, with this one you have light and it scan much quicker.

Delivery Cost €4.99 (Per Order) - Ireland
Discreet Packaging
SMS and Email Alerts
Order before 2pm for same day dispatch
98% of all orders are delivered next day
Your order will leave our warehouse in Bray, Co Wicklow and be delivered the next working day. You will receive SMS & email tracking updates from An Post and someone will need to sign for the parcel on delivery.