Beaba's MUST-HAVE Products You Need To Make Weaning A Breeze!
Weaning your baby can be an exciting time, but it can also prove a stressful experience for you both. Weaning can take several weeks, but it can also take months, so it's important to be prepared and have the best of the best in weaning tools at the ready. Fortunately, here at InHealth we stock a wide range of must-haves from the weaning heroes, Beaba!
Bibs: A silicone bib is easy to clean, an ideal choice for helping to protect your baby's clothes during mealtimes. We recommend the Beaba Set of 2 Silicone Bibs - Light Mist. Equipped with a food-catching pocket, the bib's built-in neck fasteners adjust to fit snugly around your child's neck. Its supple, curved shape ensures unrestricted movement for your child.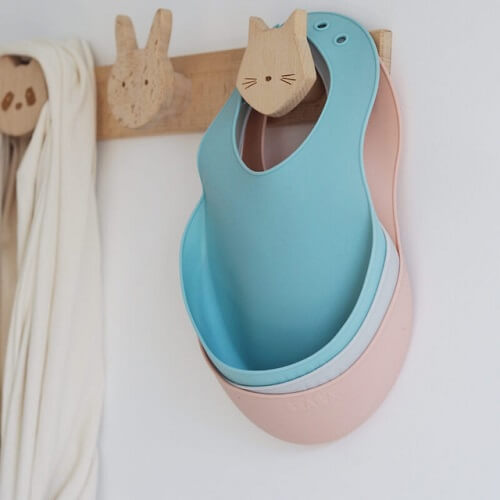 Plates, bowls, and utensils: Look for unbreakable, age-appropriate plates, bowls, and utensils for your baby. Some products are specifically designed for self-feeding, with non-slip bottoms and chubby handles for little hands. Check out the Beaba Silicone meal set (3 pcs) for a handy all-in-one set!
Food processor or blender: A steamer and food blender in one can be used to cook food and then puree fruit, vegetables, meat and fish for your baby, and it doesn't get much easier than the Beaba Babycook Solo Express, a must-have time-saver for your kitchen. It steam cooks, blends, defrosts and reheats. Or check out the Beaba 4 in 1 Babycook NEO Night Blue, the new generation food maker that is made with respect for the environment and the nutritional quality of food. Eco-design uses 48% less Carbon Dioxide and 50% less water and energy consumption than the Babycook Solo model. This Babycook Neo steam cooks, blends, defrosts and reheats food with a high quality glass bowl that preserves flavours and a double level stainless steel blade for uniform mixing - choose whether you would like it smooth, mixed, lumpy or chunky.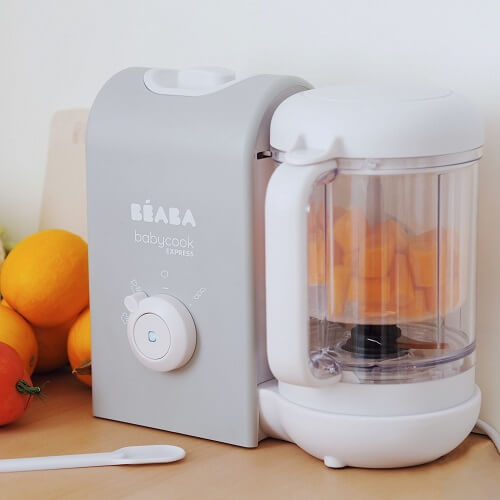 Storage: Storage is a necessity if you'll be making your own baby food. The Beaba Silicone Multiportions Weaning Storage Trays 6 x 90 ml light mist will save you valuable time, preparing 6 portions in one batch! You can defrost the amount of food needed according to baby's age and appetite, and they can be used in the microwave and oven thanks to their resistance to extreme temperatures: from -55°C / -67°C to 210°C / 410°C (microwave and oven without a lid).Its premium quality silicone means high wear and tear resistance, too.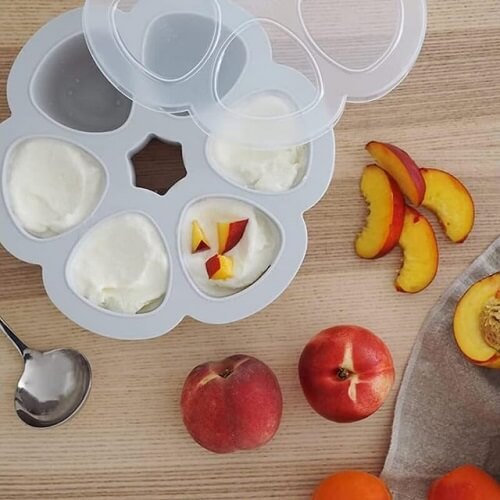 A learning cup :A learning cup is a must for helping your child to learn to drink unaided. The Beaba Stainless steel straw cup 250 ml - mineral grey is an ideal option, thanks to its 100% watertight design so you needn't worry about spills! The double-walled stainless steel helps to maintain the temperature of its contents (cool: 10 hours / hot: 5 hours), whilst the removable handles are easy to grasp in the beginning and can be removed later if necessary.
Begin your weaning journey with Beaba here at InHealth.ie with and enjoy Next Working Day Delivery in Ireland when you place your order before 2pm!