Description
Gold Winner - Best Maternity Innovation- LPD Awards 2017
Pregnancy sleep aid. 92% of pregnant women have sleeping issues
Here is the solution: the Dream belt. This new and innovative pregnancy belt has been co-created with mums and midwives to improve comfort during sleep. It provides an ideal position while sleeping and support the baby bump. The 2 shape memory foam reinforcements fill the gap between the hips and mattress while sleeping in side position.
Why you will love this pregnancy sleeping belt:
Helps a lot with sleeping issues when pregnant - Tested and approved by mums-to-be
Provides a great comfort during sleep
Ergonomic belt that follows every movement of your body during the night
Holds the baby bump's weight while sleeping on the side
Adjustable belt that fits all body shapes
Stretch fabric that adapts to each stage of pregnancy
Can be used directly on the skin or over clothing
Cover machine washable at 40°
Product features
The belt has 2 elastic strips to support baby bump
Rear velcro fastening for easy attachment
2 shape memory foam reinforcements to fill the gap between stomach and mattress while sleeping on side position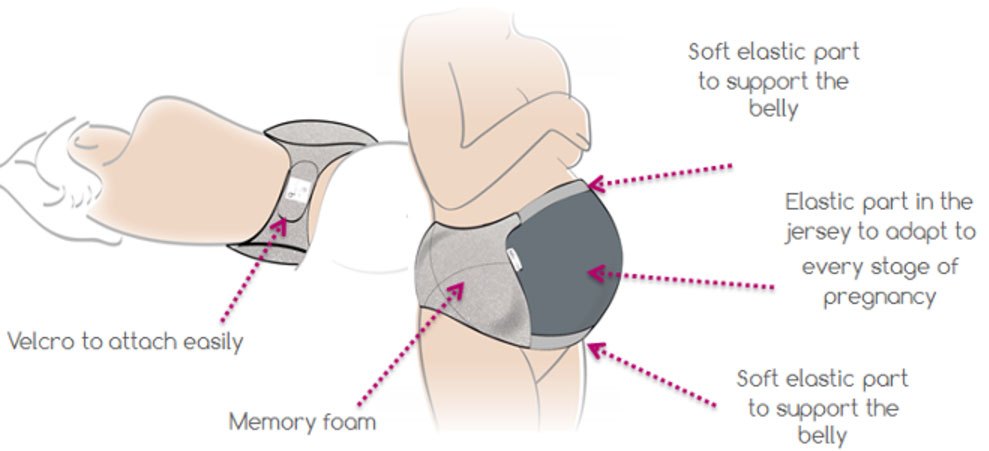 Product Reviews (6)
I sleep with my 2 year old daughter while im pregnant with my 2nd baby. I dont like to risk her bumping on my tummy at night and with this belt, it made me sleep better without being anxious of my tummy being hit. I love this!

Really helpful for my wife. Cannot ask for more!

Comfortable and easy to use

Our 7 month regnant daughter has tested this ingenious maternity sleep support belt for us: This product is well made and easy to use. The memory foam pads can be easily removed for washing and it is comfortable. I would definitely recommend to anyone looking for support at their waist when sleeping on their side. It would be especially useful if your bed is hard (we have a tempur mattress so not needed as much). It also keeps you warm around the waist but not too hot.

Comfortable and supportive

My sister in law is 7 months pregnant so I got this for her to try out. She's been really lucky with a fairly easy pregnancy, little weight gain, just a neat bump, but is getting to the stage where she's a bit uncomfortable particularly at night. Her back is getting achey, the baby is moving but she found the pregnancy pillow she has to be a bit big and awkward. These seems to be a brilliant solution for her, she said it was really comfortable to wear and she felt supported, as well as getting a great nights sleep.

Highly recommended for any pregnant woman, sleep is previous but good quality sleep is rare in pregnancy so this is worth every penny especially if coupled with something for knee (and maybe huggy) support. It seems expensive but the experience of a good nights sleep in pregnancy is more than value for money and will help you feel somewhat human again. And continue using in post-partum recovery period! For pregnancy I recommend wearing under your pyjama bottoms so you can pee without taking the belt off making nocturnal visits quicker and less encumbered.

Babymoov make wonderful products for Mum to be, Mummy and baby too. My daughter is almost 20 weeks pregnant with her fourth baby and has been unable to get comfortable or have a decent nights sleep in a while. The Babymoov Dream Belt Maternity Support product she tells me is a godsend, she feels so comfortable and relaxed that finally the sleep she has been craving is possible. The belt itself is so comfortable and supportive it is helping her chronic backache too which in itself helps her to gain a good nights sleep. Her toddler often wakes in the night and end up in bed with them and she seems to land quite frequently on Mummy's baby bump awkwardly so the belt also offers my daughter some protection from the little ones jumping around. Truly Godsend!
Delivery & Returns
All Orders delivered for just €4.99 To anywhere in Ireland and Northern Ireland
NEXT DAY DELIVERY IRELAND
SMS and Email Alerts
Order before 2pm for same day dispatch
98% of all orders are delivered next day
Your order will leave our warehouse in Bray, Co Wicklow and be delivered the next working day. You will receive SMS & email tracking updates from An Post and someone will need to sign for the parcel on delivery.