Baby's first bed - what a big purchase for new parents! Cosatto have a great range of baby cots and baby cot beds to choose from. Match your cot bed with a baby wardrobe and baby changing station; it's easy to get a whole set of baby furniture with Cosatto. All Cosatto nursery furniture comes with a 4-year guarantee, and is delivered free. See further cots / cot beds information below, under these featured Cosatto cots / cot beds.
Cosatto Cots and Cot Beds

Style, variety and value are always important, so Cosatto have 4 styles / ranges of cot beds to choose from:
· the Arlo
· the Hogarth
· the Lah-Dee-Dah
· the Luca.
Cosatto also has the Hugo cot, which is solid and cosy with chunky contours and contemporary curved detailing.

The great advantage of the Cosatto cot beds is that they can be used in three different ways:
· a sturdy and practical cot bed that suitable from birth, with safety teething rails, 3 mattress heights and a one-handed drop side
· converts to a junior bed without sides as junior grows
· converts again to a child's sofa, with one of the original sides used as the back.
The one-handed drop side is great for easy access to your baby and no back bending, which is a real plus for post-caesarean mums.

Please see the cot and cot beds comparison table below, showing you:
· the features of all the cot beds
· the colours or finishes they are available in
· the cot or cot bed size
what matching furniture is available.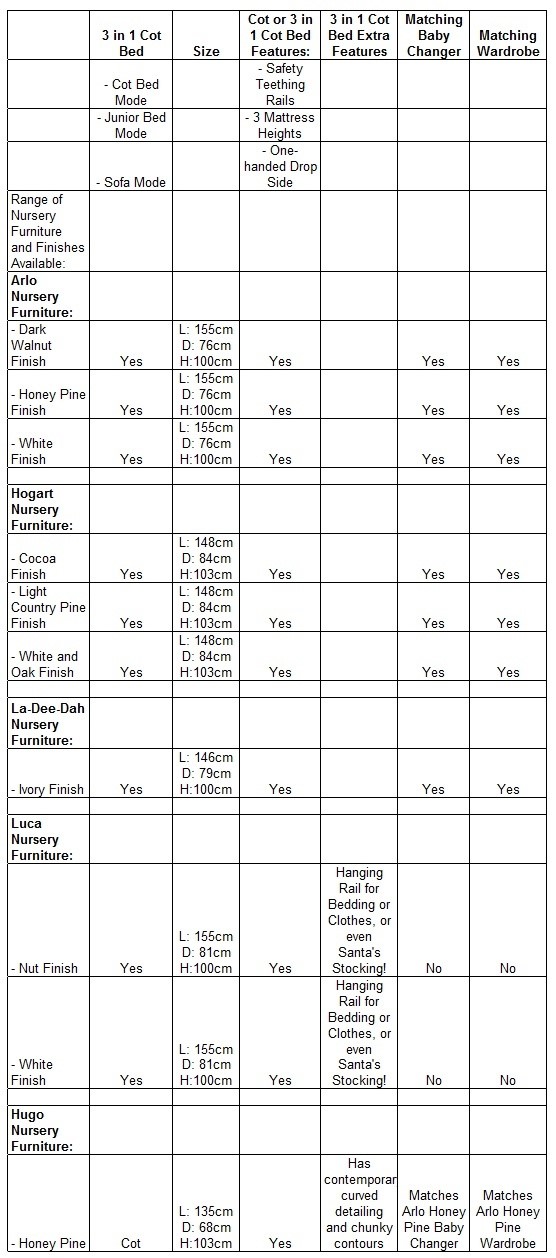 Hints for choosing and using your cot or cot bed:
it is currently recommended that your baby sleeps in your room for the first six months, in a cot or crib

duvets, quilts or pillows should not be used for babies under one year old

cot bumpers are not recommended - they often have dangerous strings or ties

don't place your cot or cot bed near a window or a radiator; your baby should not get either too hot or too cold, or be able to touch / climb onto the radiator or climb out the window

ensure there are no cords, strings or pulleys from blinds or curtains near the cot

make sure your baby is placed 'feet to foot' in the cot or cot bed, meaning that the baby's feet are at the foot of the bed so baby cannot wriggle further down under any bed clothes

don't cover baby any higher than their shoulders

monitor the temperature of the room; again baby should never be allowed to get too hot or too cold

check the mattress fit - it should fit snugly around the edges of the cot with minimal gaps

baby sleeping bags are a safe baby bedding choice, as baby cannot slip underneath.
All Cosatto baby cots and cot beds come with a four-year guarantee, and are delivered free.