Clearblue Advanced Fertility Monitor Refill Tests - 20 Fertility Tests & 4 Pregnancy Tests
UPC:

4.0156E+12
The Clearblue Advanced Fertility Monitor Sticks are for use with the new Clearblue Advanced Fertility Monitor. (sold seperately)
This product contains 20 test sticks and 4 Pregnancy tests which can only be used with the Clearblue Advanced Fertility Monitor.
How to Use:
20 Test Sticks for 2 Cycles of Use
The majority of women will need 10 Test Sticks in each cycle. Women with irregular or long cycles may have to use 20 Test Sticks in each cycle.
Please read the instruction booklet supplied with the Clearblue Fertility Monitor and the enclosed instruction leaflet before using the Test Sticks. Clearblue Fertility Monitor is an in vitro diagnostic medical device designed for home use. Not to be taken. Not for internal use. Do not use a Test Stick that has passed its expiry date.
Limitations on Use (please see Clearblue Fertility Monitor for complete suitability information)
Suitable for women with natural cycles which last between 21-42 days.
Certain medical conditions and medications can adversely affect the performance of the Clearblue Fertility Monitor. (Check manufacturer's instructions on any medication you are taking and consult your doctor).
Click Here to view Clearblue Advanced Fertility Monitor Test Instructions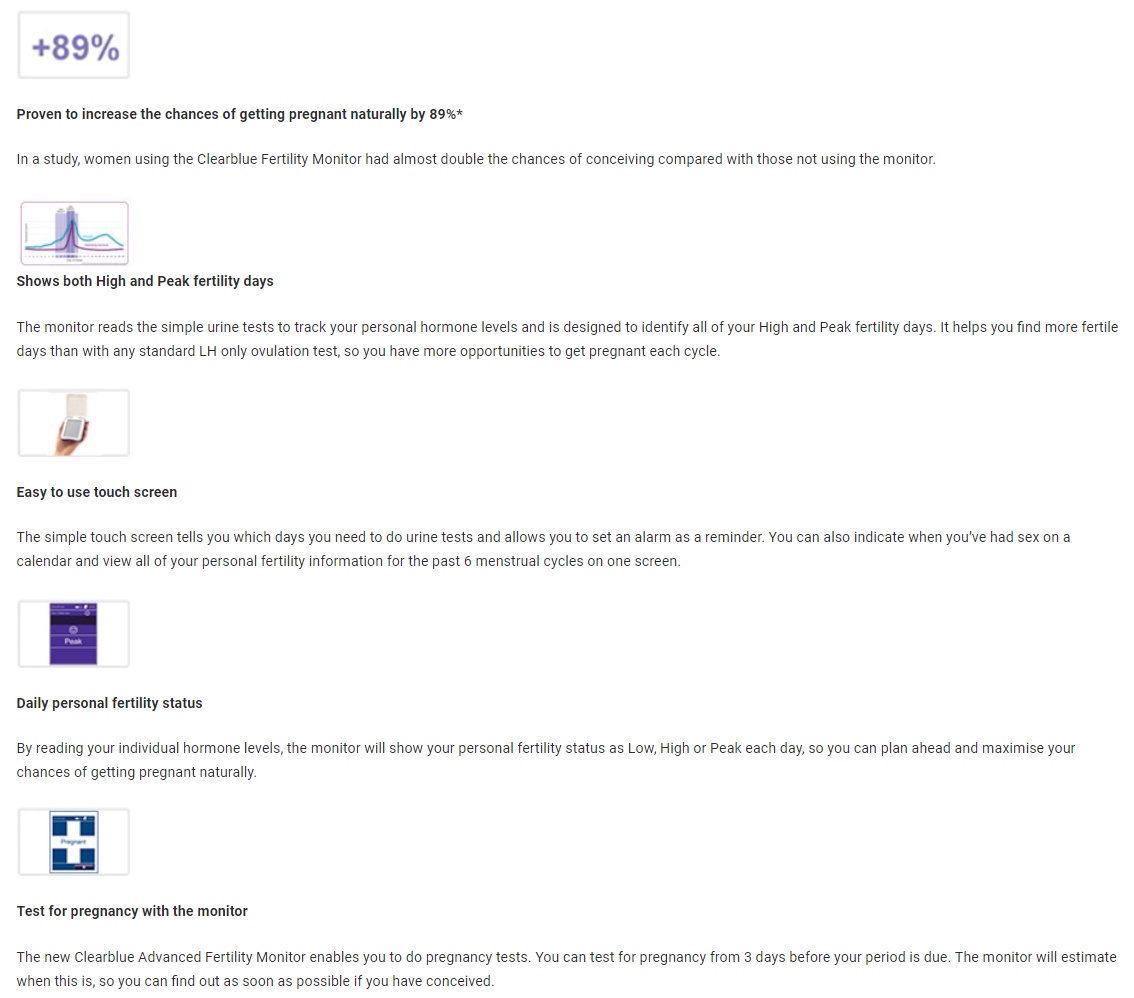 Articles you may be interested in:
Blog: 5 Signs You're Fertile Now! >
Blog: How Do I Know I'm Ovulating?>
Write a Review
I've been trying to get pregnant so I took this test. My friend said it allowed her to figure it out early in her pregnancy so I tried it. I'm either not pregnant or I took it too early. But it's definitely cool to know how far along you are and don't have to guess with the lines!

Very clear results, but i would suggest reading through the instructions before starting. You would need the kit to set up between day 1 and 4 of your cycle. After that you would need to wait until the next month.

the Clearblue Advanced Fertility Monitor Stick is very easy to read along with the monitor. it was pretty accurate and worked for us the first time. Surely recommend this!

The monitor plus the sticks are expensive but I think it was well worth it as it worked so well and I got pregnant after 2 months of using it. My only bit of advice would be to also check for pregnancy a few days after the monitor says.i checked with the pregnancy stick I got in the pack of ovulation sticks on the day that the monitor said I was due my period. The manual says it's 99% accurate at predicting pregnancy at this time and I got a negative result and was disappointed. Then 3 days later after not getting my period, I tried again and it was positive. I was thrilled.

Works just as Clearblue says it will!

I am 43 and the machine and these sticks got me pregnant in one try! We are now going to try one more time! Can't say enough!

Very expensive but worth every penny, got pregnant on my second cycle, and now 38 weeks pregnant.

Clearblue Advanced Fertility Monitor Stick does exactly what it says on the tin. Although the first time I used it I mustn't have wet it enough so my monitor kept saying 'error'. After a few minutes - when it had soaked in a little more - it worked when I put it in the monitor. I haven't had a problem since. These are the only ones I'd use in the advance monitor.

Delivery Cost €4.99 (Per Order) - Ireland
Discreet Packaging
SMS and Email Alerts
Order before 2pm for same day dispatch
98% of all orders are delivered next day
Your order will leave our warehouse in Bray, Co Wicklow and be delivered the next working day. You will receive SMS & email tracking updates from An Post and someone will need to sign for the parcel on delivery.