Boppy® Feeding and Infant Support Pillow - Circles
UPC:

8.05866E+12
The Boppy Feeding Pillow from Chicco is a great help for mother and baby during nursing. Using it during feeding keeps your body in a correct position and ensures baby is able to suck peacefully and easily. It is essential for babies to be positioned correctly when they attach onto the breasts, otherwise they may tug at the nipples and cause soreness or irritation.
Boppy Nursing Pillow Features:
The internal padding is made exclusively from fibres which do not lose their shape or compactness over time; this guarantees baby soft, stable and safe support.
No more tired arms and neck.
Boppy is a great way for parents to feed their baby in an ergonomically correct position, reducing tiring and sometime painful stress on the shoulders caused by poor posture.
It has a special exclusive shape and the materials used guarantee a snug and secure fit that adapts to the shape of every parent. Both the Boppy slipcovers and pillow can be machine-washed at 30° and machine-dried to guarantee perfect hygiene in minutes.
Its exclusive padding maintains the original shape of the pillow even after endless washes and drying.
A range of accessory slipcovers are available separately allowing parents to choose the patterns they prefer from day to day, and also ensures they have a spare cover when it needs changing.
Boppy is not only a feeding pillow, it is also an exceptionally versatile product which can be used for propping, tummy time and sitting as your baby grows and develops.
The Boppy Pillow has been tested by Osservatorio Chicco – the Baby Research Centre which recommends it as the most simple and ideal aid for mothers and babies during breastfeeding and beyond.
The Osservatorio Chicco, Baby Research Centre, is a research facility dedicated to the knowledge of the development of children from 0 to 3 years of age and their psycho-physical, emotional and social needs, in constant collaboration with the medical-scientific world, baby experts and parents.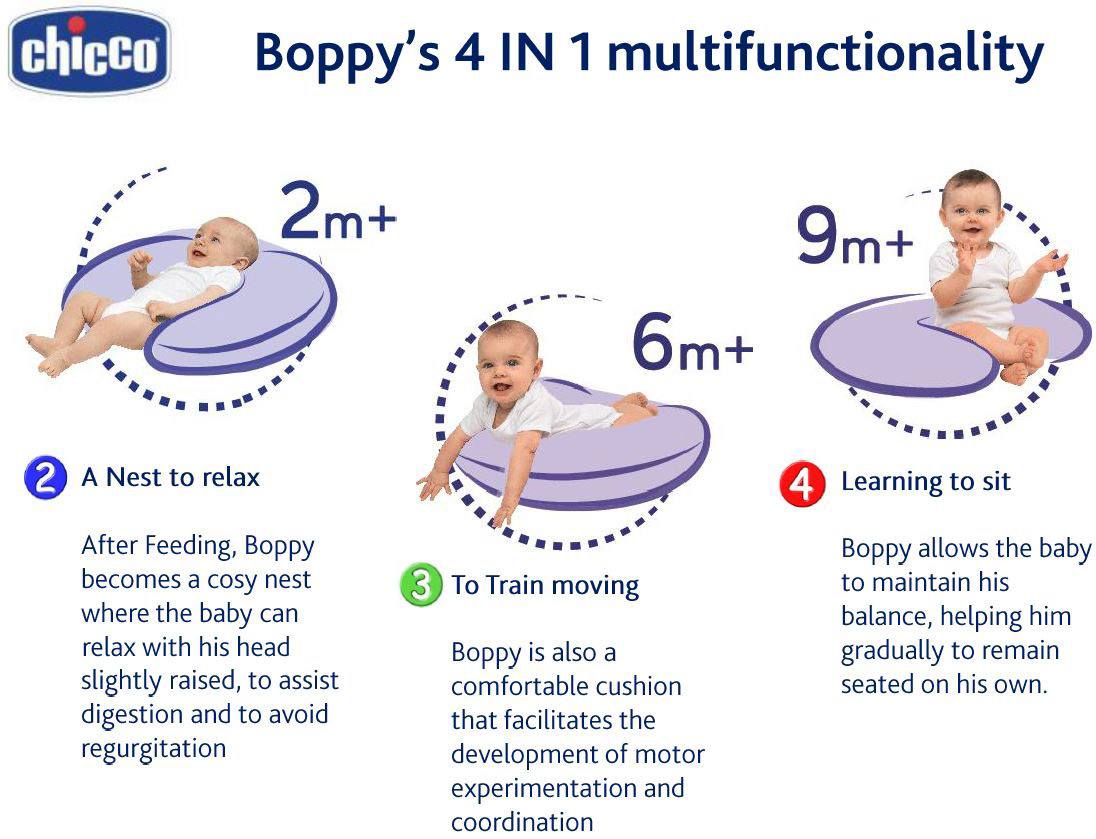 Write a Review
WOW what a difference!!! I didn't have this with my first pregnancy and newborn and the difference is amazing! This pillow is great for so many uses!! Breastfeeding (especially after a cesarean), helping big sister (5yr old) hold new brother, and sleeping propped up!! Really helpful and a must buy! Soft, and the perfect size.

Couldn't live without it!

I absolutely love my Boppy for breastfeeding. When my daughter was born 4 years ago, I was given one as a hand-me-down from a coworker (that Boppy is now TEN years old) and I STILL use it for breastfeeding my infant son! It's held up through probably hundreds of washes and two of my children (and at least 2 other children). A week ago I went to buy a new Boppy so I'd always have a backup in my car for when we're out and about (it's very hard for me to breastfeed without the Boppy), and I love the new one just as much! This will definitely be the "go-to" product that I buy for new moms for baby showers. I use mine mostly for breastfeeding, but they also work great for sitting my son in... he loves it because it gives him just enough support to work on sitting on his own. They are worth every penny!

The first time I ever saw a Boppy Pillow was 3 years ago when my first nephew was born. It seemed like it made it much easier for my sister to feed him. Now I have been using a Boppy for 4 months with my own daughter. I absolutely love it! It is my life saver. It makes feeding time so much easier. It brings her right up where I need her and I don't have to strain my arms to hold her up for 30+ minutes while she's eating. My husband even enjoys using it to feed her bottles while I'm working.

Delivery Cost €4.99 (Per Order) - Ireland
Discreet Packaging
SMS and Email Alerts
Order before 2pm for same day dispatch
98% of all orders are delivered next day
Your order will leave our warehouse in Bray, Co Wicklow and be delivered the next working day. You will receive SMS & email tracking updates from An Post and someone will need to sign for the parcel on delivery.