Babymoov Bibed Smokey Sleep Positioner
Recommended by the WHO (World Health Organization), the best sleeping position for a 0-12 months old baby is the Back Position.
Whilst sleeping, baby's face remains unobstructed, limiting the risks of incorrect swallowing, breathlessness, hyperthermia and SIDS (Sudden Infant Death Syndrome). This recommendation isn't without its disadvantages, well known by pediatricians, such as the Plagiocephaly. But solutions exist!
Plagiocephaly
A baby's skull remains very malleable up to around the age of one. Spending lots of hours asleep on their back (as recommended) means the weight of their head lies practically always in the same area which could give rise to what is called the flat head syndrome or positional plagiocephaly.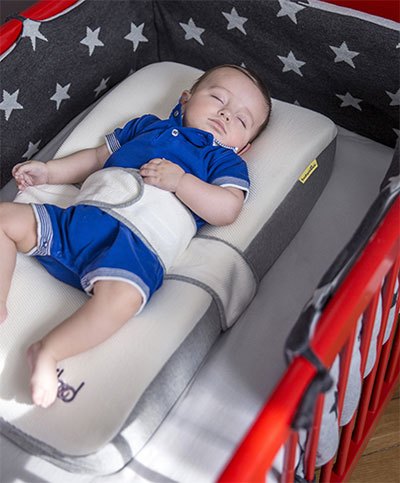 Bibed
Bibed opens airway and balanced digestive system thanks to an anti-reflux sleeping position tilted by 12°. It avoids the Moro reflex (startle reflex) and ensures a better quality of sleep thanks to wrapping the baby in the semi-foetal position. There is a strap to hold the baby in place. Thanks to freedom of movement for the head, it prevents flat-head risks. A carry-bag is also included.
Bibed was designed by an osteopath:
«I have been seeing newborn babies in my osteopath studio for over 20 years. One of the reasons for the visits that increased incredibly since 1994 was associated with skull deformations related to regularly sleeping on the back (flat head syndrome or plagiocephaly) This clinical experience on hundreds of infants led me to this obvious fact: there was a need to find a solution to prevent it. However, I wanted to offer newborn babies a real way of sleeping adapted to this position on the back, though it also needed to ensure their comfort and even improve their life style and that of their parents.»
Alain Gauthier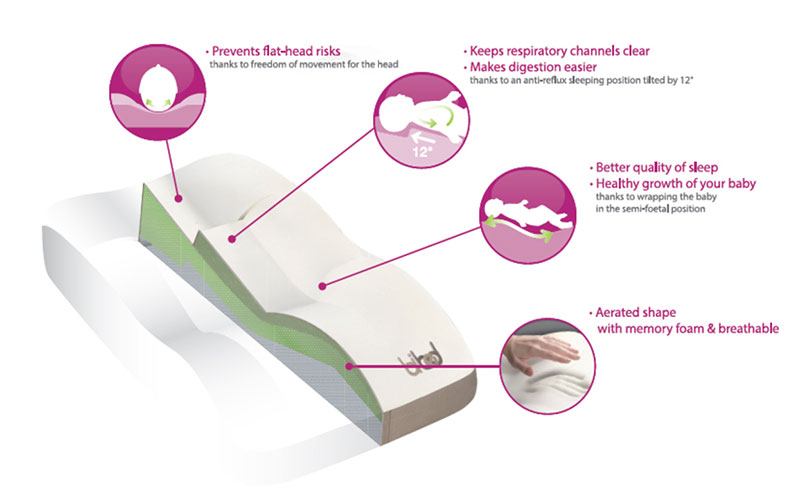 Recommendations for use:
Bibed is used between only in the bed or the baby's cradle (on the mattress).
Bibed is suitable for children weighing between 2,6 and 6kg.
This item is suitable for child who cannot sit on its own, roll on itself (4-5 months) or stand up straight by leaning on its hands or knees.
his product is not a medical device. Refer to your doctor or paediatrician for information regarding the baby's health.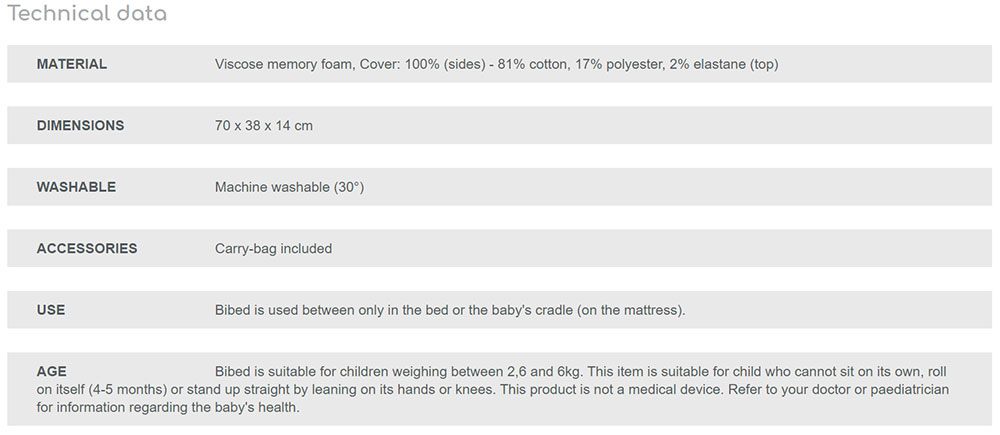 Write a Review
We were given the Bibed from Babymoov and it is just as good as the Cacoona baby, its bigger (longer and wider) which means it will last longer. Our son loves it as we move him around on it, and due to the raised head rest, he can look around to see what is going on.
I would highly recommend the Bibed and if you are are worried about the fact that it has one cover, it is very easy to put a soft towel on top to protect the mattress.

Brought this about a month ago, little one loves it, cover is a bit difficult to remove & put back on after washing, little one is quite a sicky baby so its constantly being removed. Love the fact it can help prevent flat head on my baby. It is fairly expensive but worth every penny as my little one doesnt like sleeping flat on his back, so its helping him sleep a bit longer at night.

My baby cannot sleep without this.. What can I do? She loves to be on it most of the time. Best buy!

Our little girl wouldn't sleep comfortable due to wind/reflux and this really helped her. It's so comfy and she sleeps brilliantly on it.

Delivery Cost €4.99 (Per Order) - Ireland
Discreet Packaging
SMS and Email Alerts
Order before 2pm for same day dispatch
98% of all orders are delivered next day
Your order will leave our warehouse in Bray, Co Wicklow and be delivered the next working day. You will receive SMS & email tracking updates from An Post and someone will need to sign for the parcel on delivery.